A Model School
Rotary Club International gave us the opportunity to run a full-time regular school ...
Read more
Programs & Curriculum
Learn more about the 7 different programs across different levels organized by us.
Learn more
Frequently asked Questions
How does Vidyarambam monitor the operations?
More FAQs
Fund a Student
Objective
Provide
Enjoyable Quality Basic Education
for a child of age 4 to 11 and prepare him/her to gain self-confidence and enough skill in Tamil, English and Mathematics to continue higher education in regular schools
Why do they need help?
Both parents are illiterate or less literate and are daily wage earners. They send their child to balwadi or school because the child is in safe custody for about 6 hours and also gets free mid-day meal. This helps them to go to their work place in peace
Child's profile
Initially the child goes to Balwadi, plays, eats and returns home, and has no exposure to quality education. No active learning takes place in his/her life. After entering regular schools he/she memorizes the concepts without understanding, copies whatever is written on the blackboard. In spite of schooling for 3 or 4 years she is unable to read a word in her own language and do simple two-digit arithmetic.
With your help?
He / she will be enrolled into one of the Vidyarambam Learning Centers and will be initiated to basic education adopting play-way methods. Child will be prepared to meet the challenge of education in regular schools. When the child reaches class 2,3,4 and 5 she will be enrolled into one of the Vidyarambam Support Classes and given intensive practice to form words and sentences in both languages Tamil and English . For numerical literacy, the teaching would be a conceptual approach, adopting play-way methods, rather than a procedural one. The child will be taught to be proficient in languages and prepared to meet the challenge of higher education in high schools
What would be the cost?
Rs.1200/- per child for one year.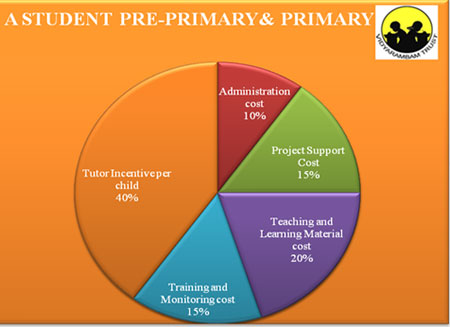 You will get a periodical feedback about the progress of the beneficiary with photographs.

The Progress
Vidyarambam has taken up very seriously to teach English language to all its children from Pre-School to Primary level. To achieve this all the tutors and volunteers about 600 hundred of them have been put on intensive training to learn the English language adopting phonics method.
View Progress Report

I want to Fund a Student
Fund a Student can help a rural child continue education.