A Model School
Rotary Club International gave us the opportunity to run a full-time regular school ...
Read more
Programs & Curriculum
Learn more about the 7 different programs across different levels organized by us.
Learn more
Frequently asked Questions
How does Vidyarambam monitor the operations?
More FAQs
Fund a Program
Objective
Teach rural and urban students of Class VI, VII and VIII to read English with comprehension, write without errors and speak fluently.
Why English?
The need for learning English - a global language - is strongly felt by rural and urban students who require to face the challenge of communicating in English. Most of the schools are not equipped to fulfill this need. They look forward to the help of NGOs
Why have Classes VI, VII and VIII been chosen?
No proper English coaching takes place at primary level. At the middle level, the students of Class VI, VII and VIII are unable to cope up with the syllabus of English lessons. They are worried how to meet the challenge in upper Classes. If they do not do well in English, the tendency would be to drop out.
A random survey was conducted among Class VIII students in 27 Govt. (AIDED) schools of four districts of Tamil Nadu. A diagnostic test paper with basic questions was given to children to answer in 15 minutes. The following is the finding.
| | | | | | | |
| --- | --- | --- | --- | --- | --- | --- |
| No. of students tested | Score >= 70 % | Score 50 to 69 % | Score 30 to 49 % | Score 20 to 29 % | Score 10 to 19 % | Score < 10 % |
| 1071 | 9 | 29 | 134 | 245 | 386 | 268 |
To reach a manageable level in using English, one has to score more than 70 percentage points. Even if we consider those who have scored 50 and above as adequate, the above table shows that 96 percent of the students are far below the average level.
Candidates' Profile
Students of Standard STD VI, VII and VIII may have learnt a few words in English but they do not know how to use them. They will be given intensive training systematically to speak English fluently to read, speak and write. The course has been designed to be completed in 32 sessions of 2 hours each spread over 4 months. A team of two trained tutors will handle one batch of 30 - 40 students. Group activities are adopted to learn conversing in English and the students enjoy the sessions.

The planning started in September 2008. Gradually many Vidyarambam tutors have been given training and finally after 5 years about 30 Master Trainers are in the field taking the challenge. These Master Trainers will train about 300 tutors who will in turn coach 2250 -3000 students in 4 months. It is likely in the 2nd phase of the program same amount of students can be coached. So in a year, we expect to support 4500 - 6000 students in ELE program.
What is the response of the school management?
Incredible. At the end of the FIRST session the students leave with a sense of relief (because learning English is no more a difficult task), with great satisfaction of having learnt something thought to be impossible, and with an ability to start speaking a few simple sentences. They all return to the SECOND session with home works done (of course with mistakes), raising many doubts and expressing enthusiasm to learn more and more
What would be the cost?
Urban:
Help 30 students of Grades 6/7/8 learn English through our 4 month programme - Rs.33,000/-
Rural:
Help 30 students of Grades 6/7/8 learn English through our 4 month programme - Rs.27,000/-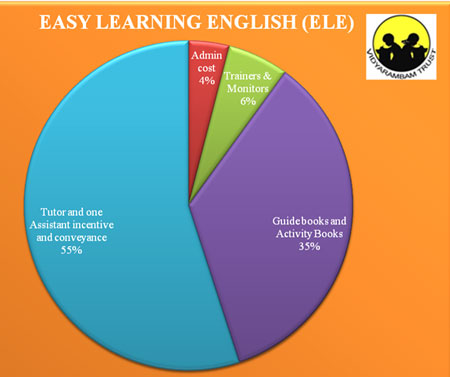 You will get a periodical feedback about the progress of the beneficiary with photographs.

The Progress
Vidyarambam has taken up very seriously to teach English language to all its children from Pre-School to Primary level. To achieve this all the tutors and volunteers about 600 hundred of them have been put on intensive training to learn the English language adopting phonics method.
View Progress Report

I wish to Sponsor this program.
Program Cost :
Rs 33,000 (Urban) / Rs 27,000 (Rural)
Easy Learning English (ELE) program for 30-40 students.