A Model School
Rotary Club International gave us the opportunity to run a full-time regular school ...
Read more
Programs & Curriculum
Learn more about the 7 different programs across different levels organized by us.
Learn more
Frequently asked Questions
How does Vidyarambam monitor the operations?
More FAQs

Annual Report

RV School Annual Day Invite

R V School Newsletter 2018-19

Vidyamalar 2018

Vidya Malar 1-2019-20
About Vidyarambam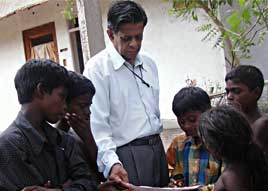 The year 2002. The place - a typical little village named Vattakottai in Kanyakumari district, in the state of Tamilnadu. The government of that time was working very hard to support and enhance education through out Tamil Nadu, but the little hamlet of Vattakottai saw no signs of development. The children of the village were apathetic to the idea of education, and the parents could not afford the very meagre sum of ten rupees a month to support the education of their children.
It was at this time that Mr.Ranganathan entered the scene, from the far away shores of the Middle East. Once, he saw students on the village road, returning from a day at school, toting bulky school bags. He was mighty impressed and asked to see what was in their bags. Books? Atlas? Geometry box? What came out were plates - steel plates that the students carried to school for their noon meal provided by the government. And that was a turning point for Mr. Ranganathan. He was appalled by the marked lack of interest in education in rural areas, and was determined to do something about it.
He realized that the challenge was two fold - enough interest had to be kindled among the children to want to go to school, and it had to be done without expecting the family to cough up money for it. Mr.Ranganathan jumped into the fray and took up the challenge. The initial days were back breaking ones, but soon the tide turned. A learning center was born, catering to 17 students. Mr. Ranganathan himself paid for the teacher's salary and made sure that the children had access to good learning material, which included activity books, posters, toys and much more. Children loved coming to the learning center - in fact, they seemed to prefer this place over their regular school!
Soon, interest spread to the neighbouring village too. The demand was growing, so Mr. Ranganathan and a few of his close friends came together to formally establish the Vidyarambam Trust, a non-profit organization. Today, these close friends are the pillars of the Trust.
What started in a small way, as one man's dream, has today reached out to over 5576 villages, over 6000+ study centres and has touched over 9,28,735 rural children. The task is not yet complete - Vidyarambam wants to spread this joy of education to more rural schools, and perhaps bring in more urban schools too under its umbrella
Our Mission
To achieve our vision, Vidyarambam offers free supplemental learning at various levels:
Quality pre - primary education for children in the age group of 3 to 6
Support Class Junior for under-achieving students of classes II and III, to improve their reading ability, and simple arithmetic
Support class Senior for under- achieving students of classes IV and V, to raise their level of reading and arithmetic and also assist with their school curriculum
Easy Learning English for Classes VI, VII and VIII of rural government schools to teach them the fundamentals of English grammar and conversation
A children's library for every Vidyarambam village
A mobile toy library that travels from School to School and engages children to play with Toys and Games
Our Vision
Vidyarambam is dedicated to providing enjoyable quality education to all the less-privileged and under-achieving children at pre-primary, primary and secondary levels, encouraging them to successfully continue their education.
Our Goal
In the coming years, Vidyarambam plans to i) increase its presence in all districts in Tamilnadu; ii) expand to provide Easy Learning English (ELE) to government secondary schools in the city; and iii) replicate the success of its model school in one other district
The Trust
Registered as a Not for profit Organization. Donors enjoy 50% exemption under section 80 G of the Income Tax act.

SPONSOR
Drive the change.