A Model School
Rotary Club International gave us the opportunity to run a full-time regular school ...
Read more
Programs & Curriculum
Learn more about the 7 different programs across different levels organized by us.
Learn more
Frequently asked Questions
How does Vidyarambam monitor the operations?
More FAQs
Fund a Library
Objective
Provide library with interesting pictorial books that will be enjoyed by the children who consequently will develop the habit of reading.
Why do they need help?
The libraries run by the Govt. in the villages keep books suitable for High school or College students. The English books are not attractive to the children and will not help to learn the language.
Why the rural children have been chosen?
The rural children do not have the facility to borrow books and read them leisurely at their homes. They need to be provided with good English books to help them pick up the language.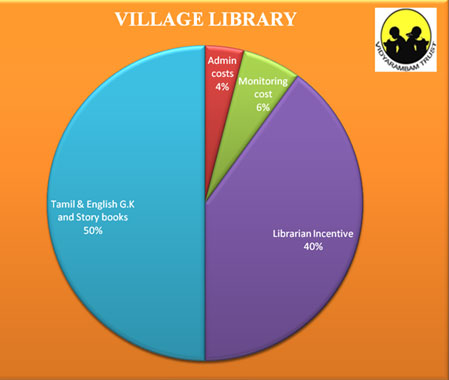 Children of age 6 to 17 who are studying in schools

Rs.6,600/- per Unit to be used by all the children of age 6 to 17 in a village for the whole year.

The Progress
Vidyarambam has taken up very seriously to teach English language to all its children from Pre-School to Primary level. To achieve this all the tutors and volunteers about 600 hundred of them have been put on intensive training to learn the English language adopting phonics method.
View Progress Report

I wish to Sponsor this program.
Rs. 6,600 for a library in 1 village with pictorial books.